In this article, you will learn what causes the fix windows sandbox failed to start error 0xc0370106 and also how to troubleshoot it.
The "windows sandbox failed to start access denied" is a message that can be received when trying to run a program in the Windows Sandbox.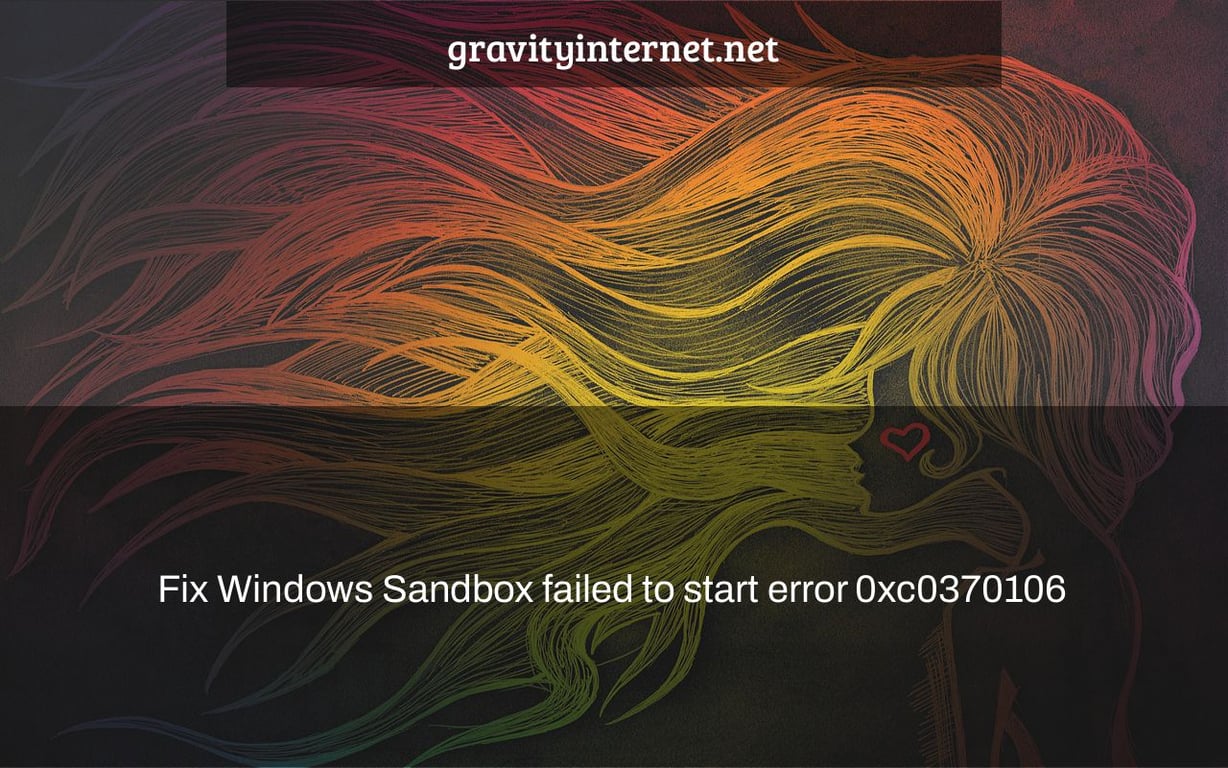 Are you seeking for a way to fix the error (0xc0370106) when Windows Sandbox fails to start? This article may provide you with some useful troubleshooting techniques.
The Windows Sandbox is without a doubt a fantastic feature of Windows 11 and 10. It enables you to run untrustworthy apps on a virtual Windows 11/10 PC. However, upon starting Sandbox, users have reported a variety of issues. Windows Sandbox failed to start issue 0xc0370106, in particular, has become increasingly prevalent. When users run across this issue, they are frequently greeted with the following notice.
The Windows Sandbox program was unable to start.
0xc0370106 is an error code. Unexpectedly, the virtual machine or container exited.
The issue has gotten quite inconvenient. Because it precludes you from utilizing the sandbox entirely. Every time you open the sandbox, it reappears. In Windows, it has become a pervasive issue. This problem has been reported by a large number of users on the Windows Community forum, Reddit, and other sites. However, there are just a few options there. Only a few individuals were able to use them. However, this post has several methods that may be of use to you.
Methods to Resolve Error 0xc0370106: Windows Sandbox Failed to Start
It's inconvenient to keep getting the same sandbox error over and again. You should not expect the strategies described in this article to work 100% of the time. Any of these may or may not be of assistance. However, you may try these techniques to fix Windows Sandbox failed to start issue 0xc0370106 and see if they help.
1. Run the program as an administrator
As a first step, you should login as an administrator to the sandbox. In comparable scenarios, a tiny number of individuals stated it worked for them. So you may give it a go as well. To accomplish it, though, follow these procedures.
To begin, go to the start menu and type sandbox into the search box.
Select "Run as Administrator" from the context menu when you right-click on the Windows Sandbox.
It could work for you if you're fortunate.
2. Restart your PC after installing the pending updates (KB4505903).
It's possible that you have a pending update. As a result, you should check for updates and install them if they are available. Restart your computer whether or not the update is available. It may help fix the issue 0xc0370106: Windows Sandbox Failed.
Note: This Windows sandbox failed to start problem has recently been reported by a large number of customers. Microsoft has addressed this issue in the most recent cumulative update, KB4505903. So, if you haven't upgraded your PC yet, do so immediately to resolve this issue.
3. Verify that all essential services are operational.
If you want to run Sandbox, you'll need to have a few things running. By default, it should be turned on. However, you should double-check it. Because the issue you've been having might be caused by one or more of the essential components failing to start. Follow these procedures to do this.
Right-click on the taskbar, then choose Task Manager from the menu.
Now, go to the Services page and check for the services listed below.
Services for Container Managers
Management of Hyper-V Virtual Machines
Hyper-V Host Compute Service is a service that allows you to host your own computer.
Service for Network Virtualization
Disk (Virtual)
Ensure that these services are up and operating.
If any of them are not active, you may manually activate them.
After that, run sandbox.
However, you may enable/disable these services if you desire by performing the following.
To begin, press the Win + R keys on your keyboard. RUN will be launched.
Now, type services.msc into the search box and press Enter. It'll bring up the services window.
Find and start/stop/restart the services I described before. When you right-click on any of the services names, you will be presented with related alternatives.
It could be able to repair the 0xc0370106 problem in Windows Sandbox.
4. Switch between enabling and disabling Sandbox.
It's also possible that re-enabling the sandbox will help. As a result, you may give it a go as well. Follow this guide if you don't know how to activate or disable sandbox.
5. Remove any recent or troublesome updates.
It's possible that you've had trouble starting the sandbox after installing the most recent Windows update. You may remove the update in this scenario to resolve the sandbox failed to start problem 0xc0370106.
However, this problem has recently begun appearing as a result of cumulative update KB4497165. As a result, you may delete this update right now. Follow these procedures to remove.
Go to Control Panel > Programs > Programs and Features to get started.
Now choose "View Installed Updates" from the drop-down menu. Then you'll get a list of all the updates that have been installed on your computer.
Finally, restart your computer after uninstalling the newest update.
However, Windows may download and install the update again automatically. You may take the following steps in this situation.
To begin, press Win + I to bring up the Windows 10/11 settings menu.
Go to Update & Security and choose "Pause updates for seven days."
You may postpone the update for even longer if it solves Windows sandbox failed to start problem 0xc0370106. When Microsoft publishes permanent fixes in the next version, you may resume it. Otherwise, if the update isn't resolving the issue, restart it.
6. Restore system files that have been corrupted
Corrupted system components on your PC might potentially cause the issue. In this scenario, the SFC and DISM commands may be useful in removing it. If you're not sure how to execute these instructions, read this: How to Restore System Files in Windows
7. Be patient.
This might be a well-known issue that most people are experiencing. Microsoft may already be aware of the situation in this scenario. In this case, they may provide an update to solve the Windows sandbox failing to start issue.
There may be additional options available to you. Because this is a new form of mistake, I will continue to add additional solutions to this page. If you know of any, please let us know in the comments section.
Watch This Video-
The "sandboxie driver error" is a problem that has been present for a while. There are multiple solutions to fix the issue, but one of them is by reinstalling the sandboxie driver.
Related Tags
sandbox error windows 10
windows sandbox error 0xc03a001a
the connection to the sandbox was lost
sbie2331 error
error 0x80072746 sandbox