Shipper Pro is a plugin for wordpress that makes it easy to migrate your WordPress site from one domain to another. This includes migrating posts, pages and images along with updating the database structure of your existing website.
Shipper Pro is a plugin that helps to migrate your site from WordPress to Squarespace. Shipper Pro will help you with the migration process and provide support for you along the way. Pricing starts at $99 per month, but there are discounts available for longer term commitments.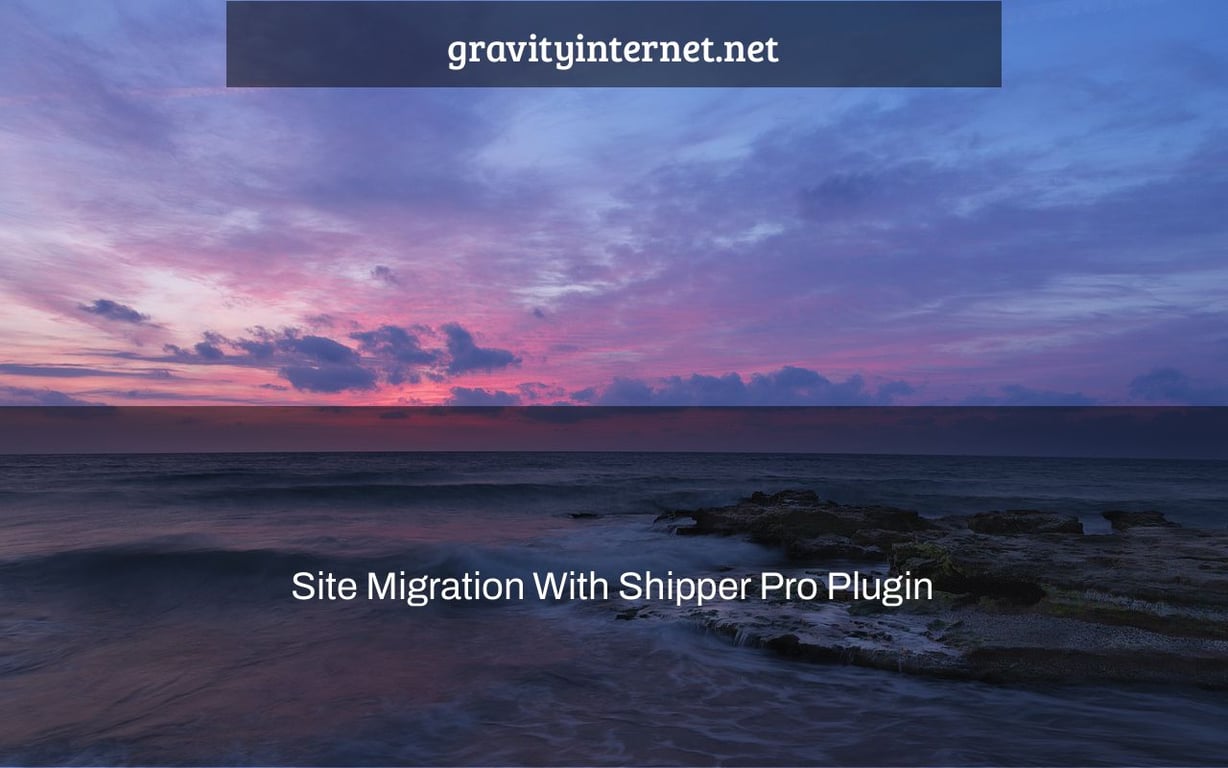 Data loss on our site may be avoided with a safe and secure WordPress site move. There's a potential you'll lose links, data, and even connection issues when migrating your site.
During the migration of websites from old hosting to new hosting, downtimes on the previous host and massive file transfers might create connection disruptions.
We require specialists in site relocation and maintenance services to prevent these issues. We understand that finding reliable provider and doing appropriate site transfer takes time, but WordPress now makes it simple with the help of a plugin.
WPMU DEV's Shipper Pro plugin allows us to migrate sites more effectively, safely, and quickly using a variety of approaches.
The Importance of a Successful Site Migration
A site transfer isn't always required. However, owing to hosting outages, pricing variations in the previous host, the potential of a malicious attack, and site structural improvements, we need to migrate the site.
The following are some of the challenges that may be avoided with efficient site migration.
Broken links may be caused by the loss of in-post links.
The loss of a file might result in an error on the newly moved website.
The database connectivity difficulties between the old and new websites.
Traffic is sent to the former server over an SSL connection.
Due to SSL connections, these vulnerabilities might lead to a loss of visitors and even income for e-commerce sites.
So, a backup, a comprehensive site migration, a secure connection, link check and replacement, and lastly, a migration log assist with a successful transfer. Now we can observe how Shipper Pro handles site transfer from different hosting providers in a safe and efficient manner.
Why should you use Shipper Pro to migrate your website?
For the following reasons, Shipper Pro makes WordPress site migrations simpler.
The Shipper Pro offers two distinct options for effective site transfer. The first is API migration, followed by Package migration.
It establishes a secure connection between servers and allows for the entire transfer of data from previous hosting.
The package migration speeds up the transmission of the enormous file, avoiding long-term connection issues.
Filters and final checks before to transfer aid in a successful migration with no misconfiguration of current websites.
The finest features of Shipper Pro
Let's look at how Shipper Pro makes WordPress site migrating easier. It has a simple interface that allows us to transfer a WordPress site to a new site or migrate an existing one, and we can even merge multisite network sites into a single site. With staging, the live site transfer is done safely. Take a look at Shipper Pro's features!
To avoid missing files, use a secure API migration.
The API technique allows you to migrate your WordPress site without losing any files from your previous hosting. It allows for a comprehensive data transfer in only a few clicks.
FTP transfer is the most common method of site relocation. Due to server downtimes and connection interruptions, FTP transfers may sometimes result in file loss, as well as internal server errors following the conversion.
API migration is offered to make the process go as smoothly as possible. The Hub is used to link the source and destination hosts. Once the connection has been established, we may export the site to the new server.
Shipper Pro will handle the rest; in the meanwhile, we may filter undesirable files from the previous host or do a thorough site transfer from old to new hosting.
By using the API technique, we can leverage the import functionality to replace the current WordPress site in the new hosting. The Shipper Pro plugin has made it much more safe. We can also use package migration to speed up migration and media transfer.
2. Package Migration Allows Larger Files To Be Migrated More Quickly
Everyone wants the site migration to be completed as soon as possible. Taking a backup before migrating and deleting the file after successful transfer, on the other hand, has been a lengthy operation. It allows you to bundle outdated website files with a password-protected installer.php file.
We can create the package and safely transfer it to the new host. By clicking installer.php in the new host, you may access the installation wizard. This approach makes it simple to transfer media files and themes.
In certain circumstances, we do not wish to move the whole website to a new server. For example, we can store video and picture assets near client locations, allowing us to respond to consumer requests more quickly.
It's even possible to save it on the cloud. In this case, using the Package technique to send the file swiftly and securely is the best option. The files are compressed and sent to their final destination fast.
The size of the file and the projected time for a successful Package migration transfer will be shown by both API and Shipper Pro. In the event that huge files are found during API migration, we may use the Package technique to move the whole site.
3. Multisite Migration Simplifies a Difficult Task
The Shipper Pro plugin transfers your WordPress site from one host to another. It has the ability to import an existing WordPress site onto a new host. It facilitates the transfer of subdomain and addon domain sites to new web hosting.
It also aids in the consolidation of multisite networks and multisite subsites into a single site. We know that a multisite network handles several WordPress sites in a single WordPress site through subdomain or subdirectory WordPress install.
With multisite network control, each site operates independently. A subsite migration from a multisite network is a procedure that should be done with caution. We must accurately import the database tables; else, migration issues may arise after the site move.
The API function of the Shipper Pro executes Multisite Migration with import-export options. We may pick between a multisite network or a subsite migration into a single site, and Shipper Pro will take care of the rest.
4. No Internal Server Error During Database Migration
We may experience issues such as database connection failures and missing database tables when migrating databases. Shipper Pro allows you to accomplish this safely. In both the API and Package methods, we can check the.hta access transfer in the transfer log.
We may bypass the internal server issue by using the user name and password settings in the wp-config and.hta access files to connect to the database. The Hub in Shipper Pro offers three options for connecting to a secure database in phpMyadmin.
The custom table, new prefix tables, and the current destination table are the three possibilities for importing database tables onto new sites in Shipper Pro. It facilitates all three migrations and protects database connections, even when subsites are part of a single site.
5. Filtering and excluding files may aid in site migration optimization.
The filter options are beneficial when migrating a WordPress website to a new host. Before moving, the Shipper Pro requests that inactive themes, plugins, and widgets be filtered from the former website.
These undesired plugins, themes, widgets, media assets, and previous site backups may all be filtered onto a new host. This function may be used to filter spam comments, post changes, and unnecessary HTML and CSS files. It aids in the migration of optimized WordPress sites to new hosting.
We may clear up the old hosting after a successful move to prevent data theft.
6. Large File Detection Aids In Faster And More Secure File Transfer
We understand that site migration, like moving our office to a new location, takes time. We need to execute this swiftly and properly without causing any damage to the office's assets. We'll require considerably more time than migration time to regain the real process if we lose anybody.
The huge file typically causes complications since it takes longer to upload, however we never had any connection interruptions or downtime concerns when transferring large files. Otherwise, it is the source of the issue.
Shipper Pro employs a pre-flick check, which prevents this problem by recognizing huge files before to transmission. We may combine package migration with zipped file transfer to shorten the transfer time.
7. To Avoid 404 Errors After Migration, Find And Replace Links
Broken links are the most common issue following a successful WordPress site conversion. It may result in 404 problems during traffic from social media link referrals and even inside postings, such as internal links.
Broken links and not being detected may be avoided with proper link replacements. During the migration, Shipper Pro looks for and substitutes links inside the post and image URLs.
Aside from the site migrating functionality, Shipper Pro offers excellent customer service through email ticketing. It also provides security and site maintenance services to help avoid long-term vulnerabilities and cyber-attacks.
Most Commonly Asked Questions
Is it difficult to migrate a website?
Site transfer in WordPress is not a difficult operation if done correctly. We no longer need an expert to do it correctly. Shipper Pro's API and Package migration processes make it easier to complete with fewer clicks.
2. Is it required to make a backup before migrating?
Yes. Before migrating to a new server, we should make a backup of both the database and the site files. Following the move from previous hosting, we should clean up.
3. Is it possible to move active websites?
Yes. We may migrate a live site using staging, which prevents the loss of web pages during the conversion. Sub-domains are used as staging areas for the migration in Shipper Pro.
4. Is it possible to run numerous website migrations into the site at once?
Yes. If all of the websites are part of a multisite network and are controlled via the same WordPress dashboard. Otherwise, we'll have to do it one at a time.
5. Is assistance required for website migration?
The appropriate migration technique does not need assistance; otherwise, we will require the services of a professional to finish the operation. However, WordPress site transfer can be done safely and fast using Shipper Pro.
Is it simpler to migrate a WordPress site using Shipper Pro?
If we do it right, migrating a WordPress site is a straightforward operation. During a site migration, we can prevent database, internal server, and 404 issues, and we don't even need professionals to accomplish it. Through API and package migration, the Shipper Pro does this task in a safe and secure manner.
It secures WordPress site migration by linking both the source and destination sites in a hub and migrating them to new hosting in a secure manner. Furthermore, Shipper Pro facilitates WordPress site transfer to a new server by converting multisite subsites into a single site in a few easy clicks.
When you want to migrate your site without depending on a support crew, use the Shipper pro WordPress plugin and do the task flawlessly. Install this fantastic migration plugin as part of a WPMU DEV subscription, which WPGlossy readers can get for 20% off.
Watch This Video-
The "wpmudev pricing" is a plugin that allows you to migrate your site from WordPress to Shipper Pro. The plugin can be purchased for $19.99.
Related Tags
wpmudev hosting
wpmudev migration plugin
wpmudev plugins
shipper pro docs
wp mu-plugins